Sort by: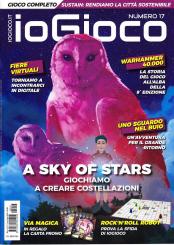 Io Gioco Nr 17
(7/2020)
Evaluated games
Afternova, Age of steam (2 ed.), Bloom Town, Crystal Palace, Detective Club, Dreamscape, Escape from the Asylum, Eterea, Euphoria: Build a Better Dystopia, Fallout Shelter: The Boardgame, Fort!, High Society, King of Tokyo: Dark Edition, Kodachi, Little Town, Love Letter, Pandemic: Hot Zone - North America, Point Salad, Quartermaster General, Ricochet Robots, Roam, Rune, Sierra West, Sky of Stars (A), Spedizione Perduta (La), Sustain, Via Magica, Warhammer 40.000 : Conquest,
Publisher
Aktia srl
Annexed
Gioco o inserto: Sustain
Gioco o inserto: Ricochet Robots
Gioco o inserto: Via Magica
Gioco o inserto: Sky of Stars (A)

Si precisa che tutti i nomi di Ditte o Prodotti che vengono esposti in questo sito sono di proprietà delle rispettive aziende ed il fatto che vengano qui citati non intende infrangere alcun diritto dei detentori né violare alcun copyright.
Chiunque ritenesse di vantare dei diritti di immagine o di copyright e volesse farli valere è pregato di contattarci perché si possa provvedere alla rimozione dei documenti indicati.