'65: Squad-Level Combat in the Jungles of Vietnam
(2016)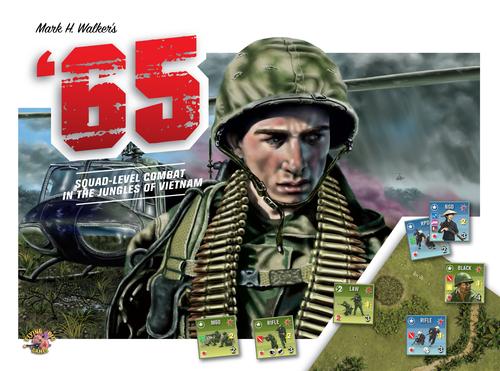 This game is not in my collection. It is listed here because I tested it or it was cited in magazines or books already inserted in the DB
| | |
| --- | --- |
| Graphics: | N.A. |
| Rules: | N.A. |
| Pleasure: | N.A. |
| Luck: | N.A. |
| Complexity: | N.A. |
BBG rating:
Voto:
7.62
Votes:
100
Ranking:
#5229
More on balenaludens.it
Eccoci a proporvi '65: Squad-Level Combat in the Jungles of Vietnam (nel seguito, semplicemente '65), un wargame firmato dal prestigioso Mark H. Walkers. Si tratta di una simulazione tattica (squad level) del conflitto del Vietnam. Ve lo premettiamo: questo articolo non risponde ai criteri che di solito usiamo per una recensione. Di seguito trovate una descrizione relativa ai soli scontri fra fanteria, ovvero sia senza la parte del gioco che riguarda i mezzi corazzati e gli elicotteri che così tanto fanno "Vietnam".
Follows on balenaludens.it
Scenarios
Name
Writer
Year of printing
Source
Ambient
Date
Location
Armies
Fire Base Gold
Ferreira Sylvain
2017
Vae Victis (CE)
Nr. 134
Guera del Vietnam (1960-1970)
21 Marzo 1967
Suoi Tre (Vietnam)
Americani
Vietcong

Readers' comments
Si precisa che tutti i nomi di Ditte o Prodotti che vengono esposti in questo sito sono di proprietà delle rispettive aziende ed il fatto che vengano qui citati non intende infrangere alcun diritto dei detentori né violare alcun copyright.
Chiunque ritenesse di vantare dei diritti di immagine o di copyright e volesse farli valere è pregato di contattarci perché si possa provvedere alla rimozione dei documenti indicati.